The newest Bosch's QuietCast series will be soon out as announced by Bosch giving a total number of 24 to its medium Duty brakes products. The new QuietCast medium Duty premium Disc Brake pads will have OE friction formula that extends coverage to Class 3-7 trucks. It is designed to allow medium duty automobiles of superior braking performance and stopping power. It is geared in increasing pad's life, providing quiet stops and least accumulation of dust and increased great felling at the pedals.
Bosch's Senior Product manager for Friction, David Terry proudly pointed out that Bosch's blends of friction materials has been selected from a host of factors affecting automobile's braking power. These factors are categorized as medium -duty truck's weight and duty cycles. However, he does not discount rotor diameter as well as its thickness as contributing factors and also includes caliper and bracketry factors. He stressed that Friction's materials are painstakingly selected to provide reliable, long-lived and most of all a quiet braking for automobiles. Big Gains.
QuietsCast has a new packaging that is distinctive for medium-duty application. It has the image of a medium duty pad, which is made to have a colorful graphic label. This is to facilitate easy recognition for installers that the box content is for medium-duty application.
Bosch has been a long supplier of OE brake system for various medium-duty applications and with its newest QuietCast Series; it hopes to carry forward its commitment of tailoring OE products intended for the Aftermarket.
To the present and from the past, Bosch has been an avid supporter for the Aftermarket products and has high respect and support for the Aftermarket Suppliers Association. Bosch has been closely working with the association advocacy of "know Your Parts which is an education and awareness campaign for part and accessories buyers. Bosch is supporting the importance of quality for Aftermarket products by backing up these Aftermarket suppliers to deliver high quality, dependable and reliable products to motorists.
Bosch Group is a long time leader in supplying technology and services to today's motorist and with a company goal of providing innovative and beneficial solutions to all automotive needs.
In keeping up with its commitment for service and support, Bosch offers professional training to help motoring professional keep up with the ever-changing trends including high technology. Bosch develops and delivers training to qualified technicians using the latest equipments for diagnosis, repair and troubleshooting services for foreign and local car models. Bosch makes sure that the training is set up in a classroom/garage atmosphere and is available at Bosch training facilities across the country.
Top auto companies in terms of big gains
3. Ram (29%) – Ram has actually made it possible to retain its glorious years of obtaining double-digit results every year.
 It has improved its sales by less than five thousand in the month of April and has fallen short by a matter of 920 units in the month of March. A new Ram model is going to be presented and released in the market this 2013 and the new model comes with great updates, which can be compared, to its competitors.
4. GMC – Has garnered 22.7% in terms of gains this year and has again retained its spot as the fourth placer. It has posted double-digit gains year after year and has improved its sales by just a shy and timid 600 units. Unlike the other types of pickup leaders in the market, GMC sales could not match the total sales in March, which were 13,849.
5. Toyota – Toyota's Tacoma has come up with a grand total gain of 24.6% this year. In April, Toyota Tacoma got a tepid 3.7% year after year increase. The 24.6% gain for the month of May has become a great thing to know this year.
If you are going to compare the top gainers during the past few years, you can see that the current list for this year is a way different. Two of the biggest auto companies all over the world have switched positions in the month of May. Ford and Nissan are both grabbing the position for the best auto company in terms of gains.
Here are the top companies, which made it possible to create big gains out of their cars and vehicles for the year 2012.
1. Ford – The Ford Company has made it possible to acquire gains by 29.3% and its F-Series model has remained to be at the top position one more time. As a matter of fact, this particular model for Ford has outnumbered and surpassed the combined figures of General Motors' Sierra and Chev's Silverado. In fact, it sells in the market and has doubled up the sales figure of the Ram Trucks.
2. The Chevrolet Silverado (21.6%) – As of the month of May, Chevrolet has made it possible to come up with double-digit sales. In fact, this company has improved its sales by selling over 3,800 units during the month of April. A new model for Chevrolet is expected to be released this soon and is believed to surpass Ford the moment it hits the display rooms.
The Hino Motors' hybrid trucks are now popularly seen in many different parts of the country. As a matter of fact, the Hino 165 is now paving its way to come up with the electric version, which will be of great help in the US market. 

The price for this kind of hybrid truck is a way a little costly compared to the traditional trucks. It can cost you as much as 116 thousand dollars.
However, it has been explained at the Transport topics that your savings over a 3-year period can cover the amount of money, which you have spent in buying the truck
With such realities brought about by this hybrid truck, more and more people will be encouraged to buy this kind of truck. People from New York, Maryland, California, and other states are expected to switch to this kind of truck. Why not if the savings you can have from this kind of truck will give you something like fourteen to twenty-seven percent worth of savings over a period of time.
Hino in the North Americas believes that the buyers will use their money for acquiring hybrid trucks and vehicles. The truth is that many government agencies and authorities are currently ordering these types of vehicles at the moment. What can you say about this?
Over the years, hybrid cars have created a great buzz all over the world particularly in the lives of those people who are into collecting cars with different characteristics. As a matter of fact, these hybrid cars have hit the world by storm and up to the present days, they simply are in the position of doing so.
The truth is that there were approximately 88,000 hybrids that were sold in the year 2004 alone. The waiting lists for these cars are still raising and climbing. Why the number of the waiting list still needs to climb up in terms of distribution? The reason is that the motor companies and manufacturers like Honda, Ford, and Toyota are not capable of manufacturing them fast enough. However, things really change.
The Japanese manufacturers for hybrid vehicles like trucks and cars are now presenting their new technologies for trucks that come with medium sizes. The truth is that there is this kind of hybrid truck that seems to form like a box that delivers different products around town. This type of hybrid truck is popular and it is made by the Hino Motors.
Inside the Ultimate Truck
U500's 6-cylinder turbo-diesel power engine dictates straightforward power.  Producing 28hp and a moving 826lf-ft of torque, the same is enough to propel this heavy weight above 60mph.
Its box is equipped with all the best stuff—transmission dictates a smooth drive even on rough roads. It's acceleration and speed may not be as good as the sport cars, but is nearly never to have been expected in a truck of this size.
The interior may be an entirely different world altogether; with its decent and fine designs and feats, it's a nostalgic of the usual Mercedes. Standard features are to be had though, but the inside is nevertheless classier than its rough exterior looks.
Price and Competition – none
And the best thing about having a U500 Brabus overhaul? There's definitely nothing like it. This might be for a fact that this truck has no particular target market, but those rare individuals who would go for the rare cars too. Pricing should be the concern for most part, and what do you expect– it's a Brabus.
Brabus' Unimog for Better or Worse
Innovating cars since we know it, Brabus has overhauled the Mercedes' Unimog U500. No one can quite perfectly comprehend why the need for overhaul but a bumpy ride survived by the truck, and its passengers, might prove that the revamp is not a waste of time after all. Coming up with this dressed-up toned-down U500 by the Brabus, mixed perspectives meet at the car's point—it may not look oh-so-perfectly as your usual Mercedes, but this is sure a tough on, no-nothing truck.
Looking at it for the first time would feel like it's been lifted off from a page in the Transformer comic books only that this one is for real. Though it can't transform as grand as Optimus Prime, the U500 has countless versatilities of its own—whether it's city driving or that rough off-road drive.
Brabus' Touch
Commoners would usually curiously stare at this truck and with sideward frowns too. It can appear as entirely disproportionate for some, but the body is molded just right to serve its every purpose. Its 455/70 R24 wheels posts an air of supremacy, and you know that this model means business. Chrome rollover bars and catchy rear, and front bumpers would elicit attention wherever it is. In spite of its heavy exterior specs, the engine's roar could drive you off in a swift and wait until you get to see how it's done.
Driving is the best way to get to your destination. 
It is comfortable, fun and even stylish at times. However, if the force that delivers you to where you intended to be is not tamed, driving can become dangerous. Of course, car manufacturers put a lot of thought to safety but unfortunately, not all of them succeed. 
That is why the Insurance Institute for Highway Safety performs crash tests. As part of their non-profit service to the American public, they collected data and released a list of the most dangerous cars in the US.
But before going on to the list, let us understand how IIHS tests cars. They divided the tests in four categories and these are the frontal crash test, the side impact crash test, the roll over test and the rear impact protection test. In the first category, the vehicle can run at 40 mph and directly hits a barrier. The second test is done by using a 3.300-pound object, at the speed of 31 mph, to strike the driver side. The third test involves using a metal plate that hits the corner of the car to see how much force it can tolerate before rolling over. The last test involves creating a whiplash to see how well the seats and seatbelts can protect the passengers. 

For a car to be considered safe, it must have a "good" score. The score "marginal" is half-heartedly acceptable and the "poor" score is not. The lowest scoring cars have poor grades in rear impact and rollover tests. Six of the seven car models received a "marginal" score these tests. In side impact tests, a "marginal" score was given to one model and the "poor" score was given to two models. And the most dangerous cars in the US are:
Dodge Ram 1500 – "marginal" score for rollover and side crash tests
Chevrolet Colorado Crew Cab – "marginal" for rollover and rear; "poor" for side
Mazda CX-7 – "marginal" for rollover and rear
Mazda CX-9 – "marginal" for rollover and rear
Nissan Pathfinder – "marginal" for rollover and rear
Jeep Wrangler – its 2-door model scored "marginal" for side; its 4-door model scored "poor" in side; both models score marginal for rear
Suzuki SX4 – "marginal" for rollover and rear
It is important to note that ratings from 24/7 Wall Street, Consumer Reports, JD Power's Initial Quality Report, and the crash rating performed by the National Highway Transportation and Safety Administration were also considered. Apparently, the cars listed have issues with quality according to these resources. Giant of a vehicle.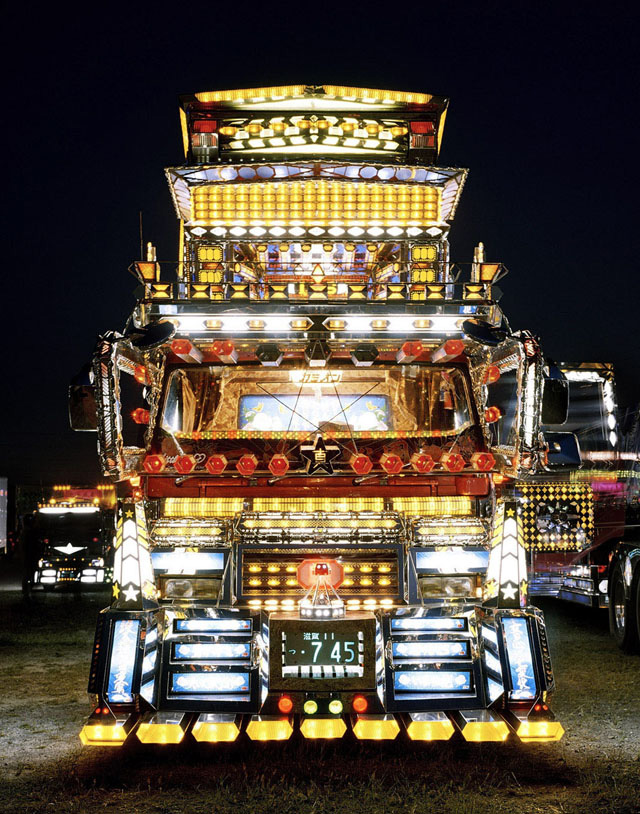 Majority of these custom-made trucks are either of the semi-trailer or the full trailer type and are designed to travel long distances with the capacity of about 45 to 60 tons depending on the haul of the material. However, oil tankers, dump trucks and even smaller ones for city use are also customized. Owners have often designed these vehicles to look menacing, and most of them feature themes about monsters, flames, warfare and demons. However, there are also more cheerful and inspirational designs like illustrations of babies, political and entertainment figures, religious deities, and even domesticated animals.
Driving this giant of a vehicle has never been easy, even with all the decorations and comfortable features. More often than not, accidents have happened involving these giants and their hapless victims on the highway. Even as drivers try to make their vehicles more comfortable and appealing, driving safely remains the best priority. In addition, as the rules of the road reign, the drivers will only hope that their vehicles, with all the intimidating features painted onto it, would not strike fear into other drivers and passengers.
They are kings of the road for many reasons. They are built to carry heavy equipment, household and perishable goods, mail and other important cargo. They play an important role in the trade and industry. Trucks are valuable in the movement of society today.
These days, however, some of the humongous vehicles can be seen in a more elaborate and catchy presentation. Truck tuning may be a fairly new branch of automobile customization, but has picked up steam in recent years. The customization of these kings of the road involve upgrading of seats, steering wheel, alloy wheels, exhaust pipes and dashboard, addition of flashing LED lights and heavy duty bumpers, and repainting of body with added decorations. These customized trucks are valued for their flair, uniqueness and power.
In Japan, this industry is called 'dekotora'. The Japanese approach involves the major presence of stainless steel and chrome pipes, bumpers and other accessories, LED and neon lights, and mostly intimidating or pleasant illustrations related to Japanese and Western culture. Such elaboration of design often takes weeks to plan and complete, and may cost a fortune.
'Dekotora' styles fall into four categories: Gundam, retro, kanso, and kansai. Extreme care is encouraged to these humongous and flashy kings of the road for long lasting durability. Unlike aforementioned traditional designs, 'dekotoras' are considered unfit for Japanese roads, due to its lighting system which may distract other drivers, along with its shorter lifespan. However, 'dekotoras' often compete in various 'dekotora' competitions in Japan.
p